Medjool dates with stone, organic, large, Israel, 1 kg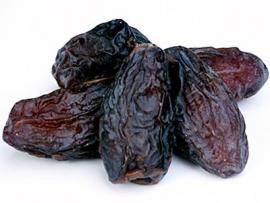 Medjool dates with stone, organic, large, Israel, 1 kg
Dates give you a pleasant soft feeling in the mouth, and their tasty sweetness makes them perfectly suitable for muesli, Christmas baking, fruit salad or as a snack. They have loads of fructose and are thus the ideal food for endurance and power athletes. In addition, they are easy to digest and help against indigestion.
Dates are the fruit of the date palm at home in the desert areas of the Orient and Africa. The oblong to egg-shaped dates are the classical provisions of the desert nomads, they are popular all over the Near and Middle East all year long. Dried dates have a water content of 20% and last long because of their sugar content of 60 to 70%. And they have loads of iron, zinc, phosphorus, magnesium and even 50% more potassium than bananas.
I datteri hanno una bocca piacevolmente morbida e la loro deliziosa dolcezza li rende eccellenti per il muesli, i biscotti di Natale, la macedonia o gli spuntini intermedi. A causa del loro alto contenuto di fruttosio, i datteri sono un alimento ideale per gli atleti di resistenza e forza. Sono anche molto facili da digerire e aiutano contro la stitichezza. I datteri sono i frutti della palma da dattero di casa nelle zone desertiche dell'Oriente e dell'Africa. I datteri dalla forma oblunga a quella dell'uovo sono le classiche provviste dei nomadi del deserto, sono popolari in tutto il Vicino e Medio Oriente durante tutto l'anno. I datteri secchi hanno un contenuto d'acqua del 20% e durano a lungo grazie al loro contenuto di zucchero del 60-70%. E hanno un sacco di ferro, zinco, fosforo, magnesio e anche il 50% in più di potassio rispetto alle banane.